inilah beberapa jurusan yg akan saya pilih ke depan nantinya
proses ini memang masih lama akan tetapi klo gue udah klop gue naik kelas 3 udah bisa ngurus pindahan gue langsung masuk ksno yaaaaaaaaaa ampun semua pembaca minta tolong doa nya :)
aku pengen dapet cita cita keren sekolah di luar negri :DDDDDD
mmm memang sekolah ini jauh banget ini masih pilihan diantara adelaide , new york atau germany :)
dan yg papa gue temukan adalah institute ini
,FASHION INSTITUTE OF TECHONLOGY NEW YORK
School of Art and Design
The School of Art and Design offers 17 majors to more than 3,800 students pursuing careers in fashion, art, and a wide range of design fields. In courses taught by a faculty of working professionals who bring industry experience into the classroom, you'll hone your artistic ability and design sense while acquiring the skills necessary to succeed in today's high-tech marketplace. FIT is committed to hands-on, practical instruction married to high-level creative insight. The innovative and relevant curriculum has been developed in collaboration with industry leaders and constantly evolves to keep pace with rapidly changing design and business trends.
Studying in New York City provides you with unparalleled opportunities to gain real-world experience through field trips and internships at many top firms in a wide variety of professions. These opportunities often lead to full-time employment after graduation.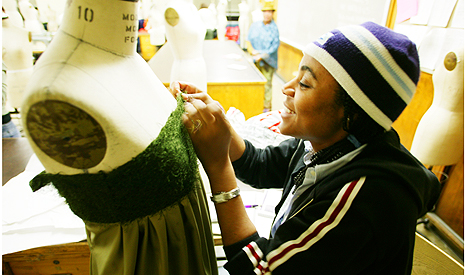 FIT in NYC: Worldwide leader in fashion education
For many people around the world, fashion education means just one thing: FIT. Our Fashion Design program—one of FIT's original degree programs—has been preparing students for success at every level, from haute couture to ready-to-wear to mass market, for 65 years. The program keeps evolving along with fashion itself, but some FIT traditions are forever: First, our close ties to the industry let us immerse you in what's happening now in this fast-changing field. And our own brand of fashion education nurtures your creativity while providing a rigorous grounding in the practical and technical skills needed for career success, exposing you to the real demands and practices of the fashion world.
You'll learn the fundamentals of professional draping, patternmaking, and sewing techniques. You'll master computer-aided design (CAD), and learn how to take a design from concept to finished garment. This singular program guides you to become not only a designer with your own creative vision, but a professional prepared to take your place in this challenging industry.
Highlights
Located on New York's Seventh Avenue—also known as Fashion Avenue—FIT has been a part of the fashion industry since 1944.
Faculty members are seasoned professionals with current experience, opening doors to the industry.
Top designers serve as "critics," helping students create an outfit to present in an on-campus exhibition (AAS) or the annual student runway show, FIT on the Catwalk (BFA). Critics have included Carolina Herrera, Norma Kamali, Gemma Kahng, Calvin Klein, and Bob Mackie.
The CFDA (Council of Fashion Designers of America), Cotton Incorporated, and Lululemon Athletica are among many sponsors of student competitions that provide opportunity and experience.
An internship at a leading fashion house gives you experience and valuable connections. Internship sites have included Donna Karan, Ralph Lauren, Calvin Klein, and Tommy Hilfiger, among many others.
In this program, you'll:
connect with industry leaders at guest lectures and industry events, and build a network of valuable contacts.
find inspiration at The Museum at FIT, where you'll study its world-class collection of couture, designer, and historical garments close up.
have the opportunity to study abroad. Programs include the unique International Fashion Design degree.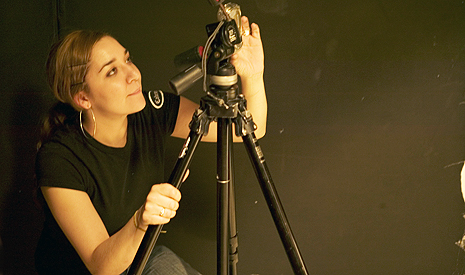 Photography at FIT: The substance behind the surface
As our culture becomes more and more visual, photographs play a bigger role in communicating ideas. Photographs are used to sell products, tell a story, or convey a mood. Therefore, talented and skilled photographers are in high demand. What makes a great photo? In FIT's Photography Department, the focus is not solely on a pretty or well-composed image. We are interested in the very essence of photographs and how they communicate complex ideas.
Whether your interest is in advertising, fashion, photojournalism/documentary, or fine art photography, our faculty of professional photographers will prepare you with the skills and knowledge you need to reach your goals as a visual artist. You'll study the latest techniques, learn about camera formats, lighting, and photo styling, and become proficient in both digital and analog technologies. Frequent critiques help you identify your strengths and weaknesses, shaping your identity as an individual creative artist.
Highlights
Classrooms are professionally equipped photography studios, darkrooms, and Mac-platform digital editing laboratories.
Internship sites include magazines such as Vogue, Harper's Bazaar, and In Style, and major ad agencies, TV studios, and world-famous photographers' studios.
The Photography Club helps you develop your creativity and build your portfolio.
In this program, you'll:
create a network of contacts through seminars, guest lectures, and industry events.
explore museums, galleries, and photo studios in New York City—the center of the art world and your extended classroom.
develop a portfolio of work that meets the highest professional standard.
gain an international perspective on photography with a study abroad opportunity in Florence and Milan, Italy.
FIT in Florence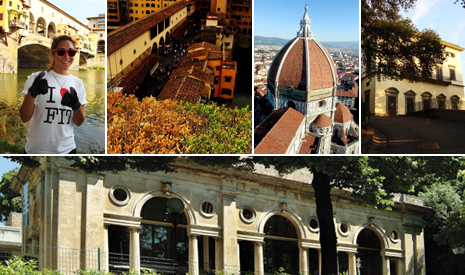 Study Fashion Design or Fashion Merchandising Management on the international stage with our unique degree programs:
In these two international cities, students follow a specialized program focusing on the unique dynamics that characterize the differences between European and American fashion.
In New York, frequent field trips take students into the design firms, companies, and showrooms along its famed "Fashion Avenue." In Italy, students have access to trade shows, cultural events, and field trips to Italian mills and factories. An intense mandatory week of fashion study in an additional European capital further broadens your perspective.